Estrongs Es File Explorer File Manager Is Always Tracking You
Es File Explorer File Manager was one the best File managers for Android for the past few years. But they have definitely killed the goose that layed the golden eggs, by adding ads to users lockscreens, without their consent and by tracking users, with their indirect consent(as mentioned in their privacy policy).
I am an Android developer and while developing one of my apps, I noticed that Android device got slow recently and I was getting lots of error messages on the logcat console in Android studio. At first, I thought the errors are from my app, but later I found out that they are from Es File Explorer, I decided to investigate further. I saw that Es File Explorer is constantly tracking and sending data to their servers in the background.

Here is one the decoded request:
http://www.estrongs.com/console/service/sample/index.php?source=ESF&country=us&unique_id=LORIC6gwj4Ixo9Ce2Orl6g==&check_modify=1&modify_key=21_1447826873|24_1444888709|25_1448439534|35_1446794822|42_1442904834|46_1442558032|48_1445226105|50_1450087570|51_1441621473|52_1443090887|53_1442562425|54_1443581547|55_1462794043|56_1442907274|57_1448041476|58_1444714745|60_1448041589|64_1446647287|66_1444967946|69_1450257313|71_1446232444|73_1446229808|74_1446727398|75_1448612592|76_1477034790|80_1448532222|81_1448253005|82_1448532227|83_1448036242|84_1449208436|96_1448629534|97_1448629528|104_1450085875|105_1450061735|106_1450061725|107_1450094597|114_1450950870|115_1450950905|116_1451373200|124_1457064606|45

Apparently, LORIC6gwj4Ixo9Ce2Orl6g is my unique id for background tracking. The other keys are encrypted and I don't know what data is being sent. I had not opened the app for a long time, and also didn't update the app, which explains the errors because the web api links for tracking were not working.
Along with that, I saw that it is also requesting, connection info and location data.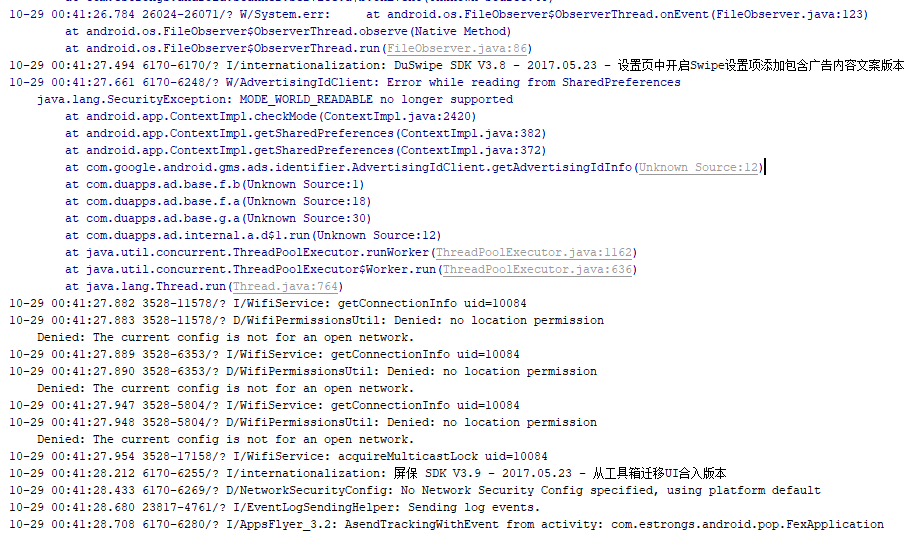 Not only that, the adwares in Es File Explorer are also running in the background and tracking you, the ones which I saw in logcat are DuSwipe and Appsflyer. They would be generating lots of data by tracking their 300 Million users. I am not a security expert but, I found out that they are monitoring me in the background, without telling me, I have uninstalled their app.
Here is the log file with filter for `Estrong.
Support me with ETH: 0x681a83007bC52C0bF42B41263Dc498f9Ef7af02A